People assume that a dentist can't accommodate urgencies and emergencies. Many probably can't. But at Delmarva Dental Services our business is built upon patient convenience, that's why we started doing evening and Saturday appointments years ago.
And with multiple dentists on staff (including our newest dentist, Dr. Leigh Auchey) chances are when you call us this morning we can get you in right away.
So if you are in pain, call us first. If you are a new patient, save time by filling out our paperwork online before you come in. Click to get started: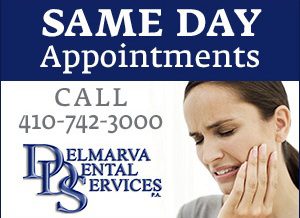 We will see you soon!