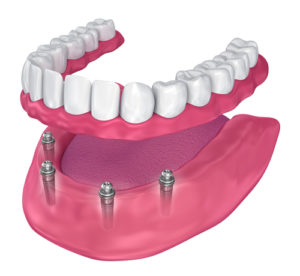 Recent developments in restorative dentistry have made it possible for individuals to replace missing teeth with results that look, function, and feel more like natural teeth than ever before. Implant-supported dentures are a combination of two effective missing teeth replacement techniques that can be ideal options for patients who are missing most or all of their teeth on the top and/or bottom rows. With implant-supported dentures, our dentists at Delmarva Dental Services can help you attain secure, comfortable teeth replacement that can genuinely improve your livelihood.
What Are Implant Dentures?
Implant-supported dentures, which are also commonly referred to as "implant dentures" or "implant-anchored dentures," are essentially hybrid versions of dental implants and traditional dentures. These advanced missing teeth replacement procedures combine some of the best aspects of implants and dentures, allowing them to work together to create stable teeth replacement that improves both function and appearance. Rather than utilize a dental implant to replace each missing tooth, implant dentures involve only a select number of implants to properly secure a custom denture. This provides the denture with a more solid foundation of support and reduces the need for denture adhesives to keep it from moving or slipping along the gums.
What Benefits Do Implant-Supported Dentures Offer?
Implant-supported dentures offer a remarkable range of benefits for patients who are missing multiple teeth or all of their teeth on the upper and/or lower areas of the mouth. With implant dentures, individuals can:
Achieve comprehensive teeth replacement designed to look and function like natural teeth
Reduce the likelihood that the denture will shift or slip from its designated placement on the gums
Reduce and even eliminate the need for messy pastes and putties to keep the dentures secure
Enjoy more of the foods they like
Improve chewing, speaking, and smile aesthetics
Minimize the potential for bone loss and wear on the gums
During your initial consultation, our dentist will evaluate your oral structures, listen to your concerns, and help you determine whether implant-supported dentures are the best option for your goals. Implant dentures involve placement of the implants in various locations along the dental arch. These areas will be selected based on adequate jawbone density for which to accommodate the implant. With this technique in mind, patients who may have been previously told they are not candidates for dental implants may actually qualify as candidates for implant dentures.
Delmarva Dental Services offers an array of missing teeth replacement options to suit the unique needs of each individual patient. In addition to implant-supported dentures, our practice offers full dental implant procedures, mini dental implants, implant bridges, and traditional dentures. If implant-supported dentures are the most ideal option, our dentist will create a customized treatment plan designed to provide the best results possible.
How Is the Implant Supported Dentures Procedure Performed?
The implant-supported dentures procedure begins with a detailed treatment plan that will identify the location of the implants that can yield the most natural and comfortable fit for the custom denture. Utilizing advanced 3-Dimensional cone beam dental technology, a series of high-definition x-rays will taken, and a 3-D model of your oral structures will be developed. This state-of-the-art process produces a surgical guide for the placement of the dental implants that allows for incredibly accurate and precise results.
The selected number of implants will be delicately inserted into the strategically chosen areas of the gums, and then anchored to the jawbone. The implants should then begin what's called the "osseointegration" process, in which they fuse to the bone and essentially become artificial tooth roots. Osseointegration will take place over a period of several months; during this period, a temporary denture appliance can be placed. After the implants have successfully fused to the jawbone, the permanent custom denture will be securely fastened to the implants and the procedure is complete.
Implant dentures allow patients to fully and completely replace missing teeth with results that feel and function like original teeth. Plus, they can significantly restore dental aesthetics and have you smiling with confidence again!
How Much Do Implant-Supported Dentures Cost?
The total cost of implant-supported dentures is highly variable among patients since the treatment is customized based on each individual's unique needs. Factors that will be taken into account for the final price of implant dentures include the number of dental implants necessary to successfully secure the denture, the custom denture prosthesis, materials and laboratory fees, the overall complexity of the procedure, whether complete or partial dentures are being placed, whether sedation dentistry techniques are used in the procedure, and other components.
Our dental team believes in providing a thorough, upfront cost estimate of your implant dentures treatment so you will know what to expect. Once your treatment plan is developed, we will produce an estimate of the total cost that includes all expenses related to your procedure. We will be happy to discuss the many payment options available here at Delmarva Dental Services, and we can answer any questions you may have about financing your treatment. We work with numerous dental financing companies, including CareCredit®, that offer eligible applicants a range of affordable plans designed to make paying for treatment as convenient as possible.
For more information on implant-supported dentures, or to schedule your initial consultation, please contact us today.