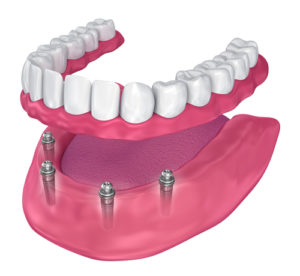 Recent developments in restorative dentistry have made it possible for individuals to replace missing teeth with results that look, function, and feel more like natural teeth than ever before. Implant-supported dentures are a combination of two effective missing teeth replacement techniques that can be ideal options for patients who are missing most or all of their teeth on the top and/or bottom rows. With implant-supported dentures, our dentists at Delmarva Dental Services can help you attain secure, comfortable teeth replacement that can genuinely improve your livelihood.
What Are Implant Dentures?
Implant-supported dentures, which are also commonly referred to as "implant dentures" or "implant-anchored dentures," are essentially hybrid versions of dental implants and traditional dentures. These advanced missing teeth replacement procedures combine some of the best aspects of implants and dentures, allowing them to work together to create stable teeth replacement that improves both function and appearance. Rather than utilize a dental implant to replace each missing tooth, implant dentures involve only a select number of implants to properly secure a custom denture. This provides the denture with a more solid foundation of support and reduces the need for denture adhesives to keep it from moving or slipping along the gums.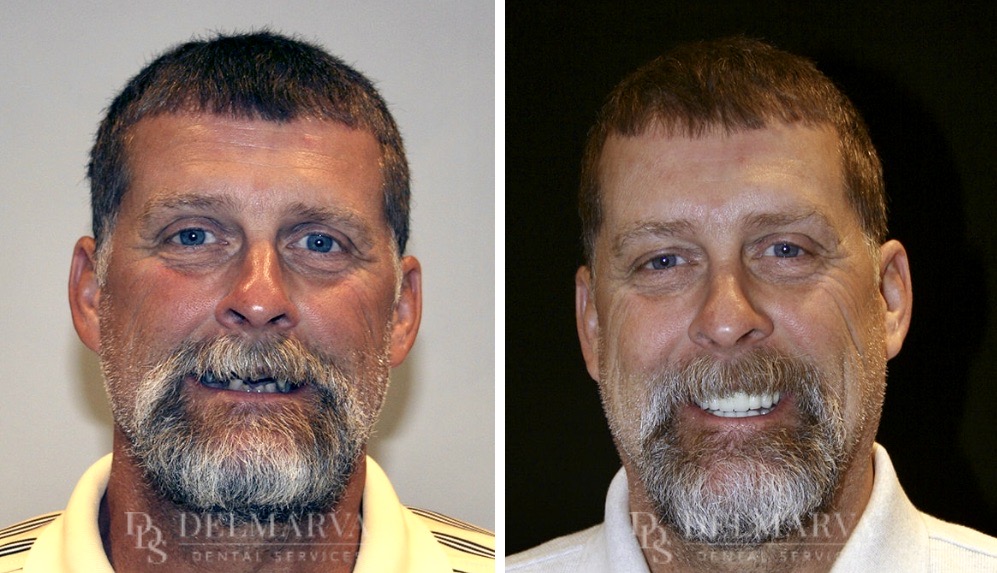 What Benefits Do Implant-Supported Dentures Offer?
Implant-supported dentures offer a remarkable range of benefits for patients who are missing multiple teeth or all of their teeth on the upper and/or lower areas of the mouth. With implant dentures, individuals can:
Achieve comprehensive teeth replacement designed to look and function like natural teeth
Reduce the likelihood that the denture will shift or slip from its designated placement on the gums
Reduce and even eliminate the need for messy pastes and putties to keep the dentures secure
Enjoy more of the foods they like
Improve chewing, speaking, and smile aesthetics
Minimize the potential for bone loss and wear on the gums
During your initial consultation, our dentist will evaluate your oral structures, listen to your concerns, and help you determine whether implant-supported dentures are the best option for your goals. Implant dentures involve placement of the implants in various locations along the dental arch. These areas will be selected based on adequate jawbone density for which to accommodate the implant. With this technique in mind, patients who may have been previously told they are not candidates for dental implants may actually qualify as candidates for implant dentures.
Delmarva Dental Services offers an array of missing teeth replacement options to suit the unique needs of each individual patient. In addition to implant-supported dentures, our practice offers full dental implant procedures, mini dental implants, implant bridges, and traditional dentures. If implant-supported dentures are the most ideal option, our dentist will create a customized treatment plan designed to provide the best results possible.
Am I a Candidate for Implant Dentures?
If you are missing all of your teeth on the upper dental arch, the lower dental arch, or both, you may be an ideal candidate for implant dentures. While this treatment involves the placement of dental implants for optimal results, it is important to note that individuals who have been told they were not good candidates for dental implants in the past may now indeed be candidates for implant-supported dentures due to the innovative technique this option utilizes. Since implant dentures require only a few dental implants to support the custom denture, the implants can be placed in areas of the mouth that present adequate jawbone density for successful results. That said, candidates for implant dentures must have strong jawbone density in enough areas to accommodate the number of implants necessary to secure the custom denture prosthesis. Ideal candidates for this treatment must also be in relatively good general health, and must be free of uncontrolled gum disease. In many cases, if gum disease is present, periodontal care can be performed first to improve the condition of the gums to a level that is acceptable for eventual placement of the implants.
Individuals who have certain medical conditions and those who are undergoing chemotherapy or radiation treatment may not be the best candidates for implant-supported dentures. Once you have met with our dentist for the initial oral evaluation, a recommendation will be made as to whether this procedure is right for your needs and goals.
How Is the Implant Supported Dentures Procedure Performed?
The implant-supported dentures procedure begins with a detailed treatment plan that will identify the location of the implants that can yield the most natural and comfortable fit for the custom denture. Utilizing advanced 3-Dimensional cone beam dental technology, a series of high-definition x-rays will be taken, and a 3-D model of your oral structures will be developed. This state-of-the-art process produces a surgical guide for the placement of the dental implants that allows for incredibly accurate and precise results.
The selected number of implants will be delicately inserted into the strategically chosen areas of the gums, and then anchored to the jawbone. The implants should then begin what's called the "osseointegration" process, in which they fuse to the bone and essentially become artificial tooth roots. Osseointegration will take place over a period of several months; during this period, a temporary denture appliance can be placed. After the implants have successfully fused to the jawbone, the permanent custom denture will be securely fastened to the implants and the procedure is complete.
Implant dentures allow patients to fully and completely replace missing teeth with results that feel and function like original teeth. Plus, they can significantly restore dental aesthetics and have you smiling with confidence again!
Implant-Retained Vs. Implant-Supported Dentures
Implant-retained dentures and implant-supported dentures share many similarities, but they also have some distinctions that can make one option more ideal than the other for certain patients. An implant-retained denture often requires a fewer number of dental implants to adequately support a denture prosthesis. This option essentially relies more on the gums to absorb the force when you bite down on food. Implant-retained dentures typically have to be removed for daily cleaning. An implant-supported denture often necessitates more dental implants for effective stabilization and foundational support of the denture. With implant-supported dentures, the dentures themselves along with the implants and the jawbone absorb much of the biting force, often giving patients a more effective and natural bite. Plus, implant-supported dentures are typically "fixed" in place, meaning they will not need to be removed for oral hygiene routines. This makes it possible to brush and floss them in much the same way as you would your natural teeth.
Both implant-retained dentures and implant-supported dentures can provide effective solutions for missing teeth replacement. Whether you are a more ideal candidate for implant-retained dentures or implant-supported dentures will ultimately depend on jawbone density, your unique needs and goals, and other factors. Our dentist can talk more with you about the benefits of each of these options once your needs have been evaluated.
How Long Do Implant-Supported Dentures Last?
Implant-supported dentures can last for many years—even a lifetime for some patients—as long as you take good care of them. Good oral hygiene routines plus attending the recommended amount of dental check-ups each year can go a long way toward ensuring your implant-supported dentures last well into the future. Our practice will provide you with detailed instructions on the best ways to properly maintain your implant-supported dentures in order to prolong the results for as long as possible.
How Do I Clean My Implant Dentures?
How to effectively clean your implant dentures will depend on the specific type of implant dentures that you receive. For some kinds of implant dentures, simple brushing and flossing, in addition to routine dental check-ups, are all that's necessary for adequate care. Once you have been evaluated and the type of implant dentures that are best for your needs has been selected, our dentist will discuss the most effective cleaning techniques with you to ensure they are being properly cared for over time.
What Are the Alternatives to Implant Dentures?
Fortunately, Delmarva Dental Services offers an extensive selection of options for missing teeth replacement for patients who would like to explore alternatives to implant dentures. For individuals who may not be candidates for the dental implant component of implant dentures, a fixed dental bridge may be an ideal treatment option. Dental bridges can be good alternatives for patients who are missing one or several teeth in the same general area, as long as there are two natural teeth that surround the space. With artificial teeth supported by healthy teeth on each side, this treatment quite literally "bridges the gap" between them. Additionally, our practice offers numerous traditional denture options for individuals looking to replace entire rows of teeth, but would like to avoid doing so with dental implants. Custom dentures can be very precisely designed and fitted for the best possible results.
If you are not an ideal candidate for implant dentures, or if you would simply like to learn about other options that can effectively meet your needs and goals, we will be happy to talk with you about alternatives that may be right for you.
How Much Do Implant-Supported Dentures Cost?
The total cost of implant-supported dentures is highly variable among patients since the treatment is customized based on each individual's unique needs. Factors that will be taken into account for the final price of implant dentures include the number of dental implants necessary to successfully secure the denture, the custom denture prosthesis, materials and laboratory fees, the overall complexity of the procedure, whether complete or partial dentures are being placed, whether sedation dentistry techniques are used in the procedure, and other components.
Our dental team believes in providing a thorough, upfront cost estimate of your implant dentures treatment so you will know what to expect. Once your treatment plan is developed, we will produce an estimate of the total cost that includes all expenses related to your procedure. We will be happy to discuss the many payment options available here at Delmarva Dental Services, and we can answer any questions you may have about financing your treatment. We work with numerous dental financing companies, including CareCredit®, that offer eligible applicants a range of affordable plans designed to make paying for treatment as convenient as possible.
Additional Frequently Asked Questions About Implant Dentures
Do implant dentures hurt?
The procedure involved for placing implant dentures should be no more uncomfortable than an ordinary dental treatment. We will apply a local anesthetic to the areas where implants will be placed that should make the area completely numb during the procedure, significantly minimizing the potential for pain. For patients who would like to make absolutely sure they are relaxed and anxiety-free during the treatment process, our practice offers advanced sedation dentistry techniques that may be appropriate.
How many implants will I need for my implant-supported dentures?
The precise number of dental implants required to securely support the custom denture prosthesis will be determined once your jaws have been evaluated and x-rayed. In general, it ranges between two and eight implants per dental arch. Ultimately, the number of dental implants necessary is dependent on jawbone density. The implants will be placed in very specific areas of the dental arch, and they will be positioned at strategic angles in order to provide the best possible stabilization for the denture. Some patients need more implants and some need less—the decision will be based on how many will be required to ensure the most comfortable fit for the denture and results that feel and function like natural teeth.
What can I eat with implant-supported dentures?
One of the many prominent benefits of implant-supported dentures is that they allow patients to eat more of the foods they like than would be possible with conventional dentures. Although individuals should still exercise caution with certain types of hard and sticky foods, implant dentures are much more secure than traditional dentures, so there is less worry about the denture becoming dislodged. Additionally, patients often find that they can bite harder than they could with traditional dentures, and that food particles are less likely to become stuck under the prosthesis. We will provide you with additional information on how to best care for your implant dentures at mealtimes so you will know what to expect.
Are implant dentures covered by insurance?
Implant-supported dentures and other procedures that require dental implants are often considered elective dental treatments; however, some insurance policies may offer a certain amount of coverage for implant dentures. A member of our team here at Delmarva Dental Services can help you determine whether your insurance plan offers benefits for this treatment.
For more information on implant-supported dentures, or to schedule your initial consultation, please contact us today.