Missing teeth can be both functionally and aesthetically disruptive, leading to issues such as jawbone decay, gum disease, difficulties when chewing or speaking, and even altered facial proportions. Dentures are designed to replace either full arches or partial sections of adjacent missing teeth in order to protect your long-term health and improve the appearance of your smile. Our dental team here at Delmarva Dental Services offers several different types of dentures, each of which is designed with your comfort and cosmetic needs in mind. 

We invite you to explore the informative sections below to learn more about dentures and the specific options available at our practice:
What are Full and Partial Dentures? 
Full dentures, also called complete dentures, replace all of the teeth on the upper and/or lower arch, while partial dentures are designed to replace a series of adjacent teeth. All types of dentures can help support the muscles of the face and lips for a better appearance, as well as improved chewing, speaking, and overall oral health. 
How Are Dentures Made?
Making a denture involves several steps. During your first appointment, an impression will be made of the jaw and/or remaining teeth. Then, during the second appointment, a bite impression will be made and you will choose the shape and color of your new teeth. The lab will then create the appliance based on your measurements and preferences, and the fabricated teeth will be placed in wax in order to provide an idea of what their shape, color, and placement will look like when the appliance is finished. During the third appointment, you will test your new teeth in order to check the appearance, bite alignment, and pressure. Adjustments will be made as necessary. During your final appointment, the completed denture appliance will be fitted in the mouth and your dentist will make further adjustments to optimize the comfort, function, and aesthetics of the denture.
What is Life With Dentures Like?
There will likely be an initial adjustment period ranging from a few days to weeks, and your speech may be temporarily affected. Chewing with dentures is often a learning experience, and patients should be careful to follow their dentist's instructions carefully when it comes to cleaning their appliance. Sore spots also sometimes occur in the mouth. If this issue is persistent, you should contact your dentist, as your dentures may require further adjustment. Alternatives to complete dentures involve dental implants and implant-supported dentures, while alternatives to partial dentures involve fixed dental bridges or implants.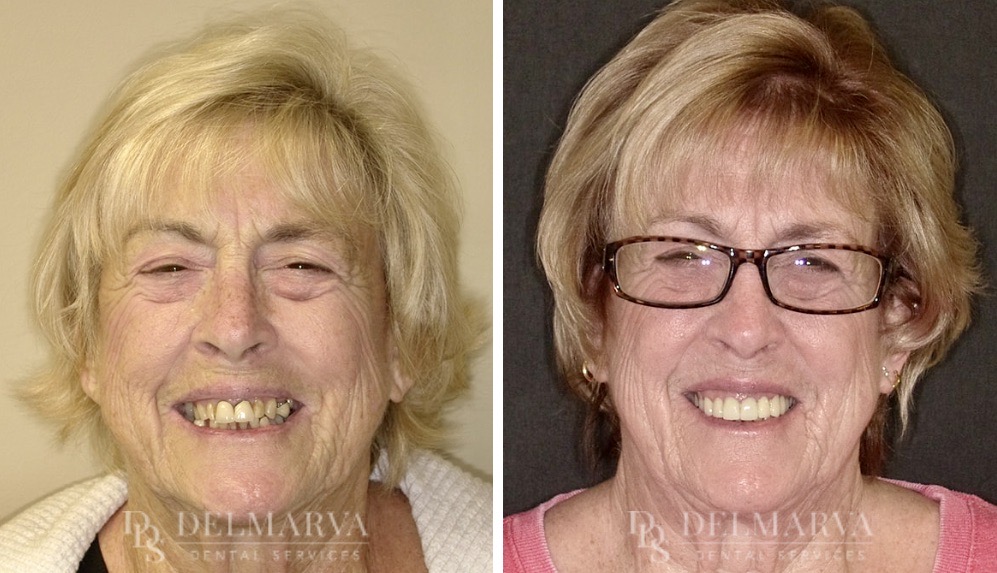 What Are My Denture Options?
Conventional Dentures
Conventional full dentures are supported by the tissues and structures within your mouth. Their resistance to dislodgement from sticky foods is prevented by three factors; the suction contact of the denture base and the underlying tissue, the tongue's ability to hold it in place, and the seating of the denture when closing the mouth.
Upper dentures have suction, but lower dentures usually don't. That is why people tend to like their upper dentures and hate their lower ones. The resistance to biting forces comes from the underlying bone and gums. The thicker and harder the bone and tissue, the better the resistance. Alternatively, the thinner the bone and tissue, the worse the resistance. 
The jawbone's resistance to biting forces was designed to be internal from the roots of the teeth embedded in the bone. It was not designed to resist forces on top of the tissue and bone. Therefore, all tissue-supported dentures will cause pressure resorption: the dissolving of the gum and tissue over time beneath a denture. This is why the older a denture is, the less tightly it fits. A potential solution to this problem is periodic denture relining, where the contour of your dental appliance can be adjusted to better suit the new contours of your existing tissues for an improved fit. Many patients also find that implant-supported dentures or root-retained dentures have better retention and resistance to pressure resorption.
Root Retained Dentures
A complete or partial denture can be supported by leaving roots in the bone that the denture fits over. Usually, two to four roots are left on each side of the upper or lower jaw. Root canals are performed on the teeth. The teeth are then trimmed so they are even with the gum line, at which point a post is cemented into the roots. This post has an attachment that partners with an attachment in the denture prosthesis. Root retained dentures typically stay in place better and allow you to bite harder. Pressure resorption is also significantly reduced in comparison to tissue-borne dentures, and the jawbone is better preserved for possible implant placement in the future. That said, one disadvantage of this denture method is that the retained roots can still get cavities.
Immediate Dentures
An immediate denture is created before the teeth are extracted. The denture is then placed immediately after the extractions are done, cutting out the usual waiting period between tooth extraction and final denture placement. That said, this method is not as accurate as the traditional method, which entails allowing the mouth to heal for around 6 to 8 weeks following the extraction before the new denture is created. There will generally be more sore spots under an immediate denture and you may experience a more difficult adjustment period, as your mouth will have had less time to heal. Patients typically need one or more relines to compensate for post-healing shrinkage. The other disadvantage is that you cannot view or test the denture prosthesis prior to receiving it. At Delmarva Dental Services, we will often make a more cosmetically pleasing traditional denture for you about a year after you receive your immediate denture. 
What are Implant-Supported Dentures?
Implant-supported dentures are a revolutionary alternative to traditional dentures, and many patients find them more convenient, comfortable, functional, and aesthetically pleasing than removable appliances. Implant-supported dentures can also help protect your long-term oral health by reducing resorption and maintaining the integrity of the jawbone. Unlike traditional, removable dentures, implant-supported dentures are fixed in place using a series of carefully placed dental implants. These implants replicate the roots of the teeth, stimulating the jawbone and preventing it from shrinking or decaying. Implant dentures also typically allow for a greater bite-force than traditional alternatives, making it easier for patients to consume a wider variety of foods. A balanced and nutritious diet can help protect your overall health and even extend your lifespan. Our dentists firmly believe that dentures should not significantly restrict your lifestyle, and implant-supported dentures can help ensure that the function and appearance of your teeth are as natural as possible. 
Learn more about implant-supported dentures.
How Much Do Dentures Cost?
The exact cost of dentures will vary depending on a number of factors—including the type of denture prosthesis being created and the number of teeth requiring extraction prior to treatment. The good news is that many insurance companies will cover at least part of the costs associated with traditional dentures, as they are one of the most conservative approaches to replacing missing teeth. Our experienced team will provide a detailed cost estimate prior to your treatment so that you can make a confident and informed decision regarding your care. 
In addition to accepting a range of insurance plans, Delmarva Dental Services also offers a number of flexible payment options, including dental financing through trusted healthcare lenders such as CareCredit® and LendingClub. We firmly believe that everyone deserves affordable, high-quality dental care, and we are happy to go over the various options with you.