Smile Makeover – Smile Analysis, Cosmetic Imaging, and Smile Design
A U.S. News and World Report survey found half of all Americans are unsatisfied with their smile, while three out of four believe that an unattractive smile hinders career success. Other recent studies from prominent universities have shown that an attractive smile is one of the most important features of self-image. One study showed that when people meet a person with an attractive smile, it gives the feeling of honesty and successful pleasantness. Another study showed that when two people interviewed for the same job, with the same qualifications and wearing the same clothes, the individual with the attractive smile was more likely to get the job and even receive a higher starting salary. With all of this in mind, you can see how a healthy, refreshing smile could make a world of difference in numerous types of situations. The fortunate thing is, people who are dissatisfied with their smiles can do something about it. With a smile analysis and smile makeover from our Salisbury cosmetic dentists, we can help you address a number of cosmetic concerns and give you a complete smile transformation.
What Is a Smile Design and Makeover?
A smile design and makeover is a customized procedure that combines an array of effective dental treatments to comprehensively rejuvenate your smile. First, a smile analysis will be performed. The purpose of a smile analysis is to determine what would be the most attractive smile unique to your individual needs and goals. The color, shape, and position of the teeth are analyzed. In addition, the shape and size of the face, skin color, eye color, lip position, and the amount of teeth and gum shown during smiling is evaluated. The image you ultimately wish to portray is discussed. Then, advanced cosmetic imaging will be utilized to help design your ideal smile. You and our dentist will choose the best treatment options to include in a full smile makeover that can help you achieve your ultimate goals.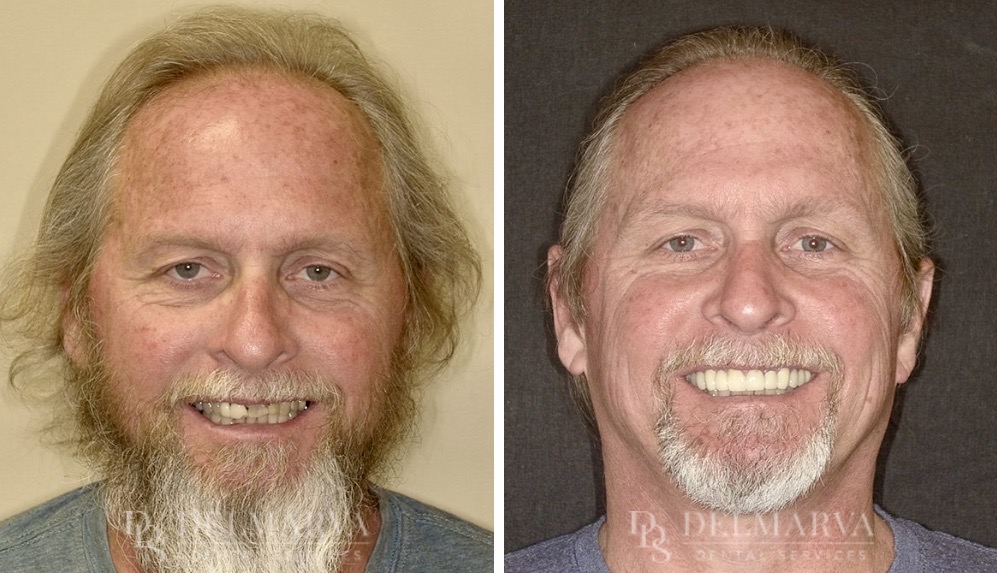 What Concerns Can a Smile Makeover Address?
A smile makeover can include a variety of treatment options to address many common aesthetic dental concerns, such as:
Chipped or broken teeth
Teeth that are poorly aligned or crowded
Spaces and gaps between the teeth
Missing teeth
Teeth affected by dark stains and discoloration
Teeth that are worn down
A "gummy" smile
Bite irregularities (overbite, underbite, crossbite)
Your initial consultation and smile analysis will help our dentist ascertain the overall condition of your teeth and gums. Once we have determined the best options to address your concerns, we can design your comprehensive smile makeover.
What Are My Smile Makeover Options?
Some of the most popular smile makeover treatment options include:
Porcelain Veneers – These cosmetic dental restorations can address chips, gaps, discoloration, misalignment and other concerns. Porcelain veneers can also be an effective way to restore symmetry and balance to the teeth, providing results that both look and feel natural.
Teeth Whitening – Professional teeth whitening can lighten the teeth by several shades. This can be an ideal option to include in a smile makeover for patients who would like to achieve a smile that looks whiter, brighter, and more refreshed.
Invisalign® – This state-of-the-art orthodontic option can correct mild to moderate misalignment issues and address bite irregularities. Invisalign® does not require metal braces or wires. In fact, the removable aligners are made of clear plastic and are virtually unnoticeable on the teeth.
Dental Implants – If you have a missing tooth (or teeth), you may want to include dental implants in your smile makeover. Replacing missing teeth with dental implants can dramatically improve smile aesthetics, in addition to restoring dental health and function.
Gum Lift – Also known as gum recontouring, a gum lift can reduce the aesthetic effects that excessive gum tissue can have on your smile.
These options are just a few of the many types of restorative and cosmetic dentistry treatments that can be included in a smile makeover. During the smile design process, our dentist can help you decide which selections will be most ideal for your needs and goals.
What Is the Smile Design Process Like?
At the first appointment with one of our experienced dentists, a series of photographs are taken, as well as measurements of the face and teeth. The data is analyzed, and together with the photos, cosmetic imaging can help us design the ideal smile. Cosmetic imaging is the use of a computer and a photograph of a patient where the teeth can be altered to show what they would look like after a particular cosmetic enhancement. In this way, a patient can compare before-and-after photos prior to having any treatment done. Teeth can be lightened, straightened, widened, lengthened, or shortened, and the spaces between them closed. Smiles can be broadened and made to look younger. Several photos can be shown of several treatment options. A patient can decide among bleaching, crowning, porcelain veneers, braces, or combinations of these. When cosmetic imaging is used, a person can truly make an informed decision about what cosmetic treatment would best meet their desires.
At the second appointment, the smile design can be discussed and the options explained, as well. After the smile design, you will understand the options necessary for improving your smile to your specifications, the costs associated with your treatment plan, and the time required to create your ideal smile. In some cases, a full smile makeover can be completed as one combination procedure in a single appointment. In others, the procedure will require a series of staged appointments. It all depends on the unique needs of each patient and the type and number of treatments that are included in the smile makeover. Rest assured that we will explain all aspects of the procedure to you so you will know what to expect from the treatment process before we begin.
How Much Does a Smile Design and Makeover Cost?
The total cost of a smile design and makeover varies among patients based on individual needs and the customized treatment plan. The price will ultimately be calculated according to which treatments are included in the procedure, the overall complexity of the treatment, fees for dental materials that will be utilized, and other factors. Once your smile design is established and your smile makeover treatment plan is created, a member of our dental team will present you with an estimate of the total cost, including all associated expenses. Delmarva Dental Services accepts a number of payment methods and we work with several dental financing agencies that offer qualified applicants convenient and affordable financing options. We will also be happy to talk with you about any treatments involved in your smile makeover that may be covered by your dental insurance policy. Our practice looks forward to helping you find ways to pay for your smile transformation that can fit within your budget.
Would you like to learn more about your smile makeover options? Please contact Delmarva Dental Services with any questions you may have, or to schedule an appointment.