Thanks to revolutionary advances in the field of restorative dentistry, there are now many options other than traditional dentures to replace missing teeth. Dental implants are prominent examples of treatments now available that can help you obtain excellent missing teeth replacement with results that improve both dental function and oral health while significantly enhancing the appearance of your smile. Our skilled dentists in Salisbury offer a full range of custom-designed dental implant procedures that can provide a state-of-the-art alternative to traditional dentures.
What Are Dental Implants?
A dental implant is a titanium cylinder that is placed in the jawbone to replace missing teeth. The implants essentially serve as artificial tooth roots, which provide the foundation for an attachment connected to the implants that will then connect to artificial teeth replacements. These replacements can be removable or fixed, and can include options such as:
Dental Crowns
A crown (cap) can be made to attach to one implant, or several crowns can be designed to attach to several implants.
Dental Bridge
A bridge can be attached to one or more implants with artificial teeth in-between the implants.
Dentures
A custom denture can be made to screw into five or more implants, or to snap over two to four implants.
Existing Dentures
These can be modified to snap over two to four implants. The more implants holding a denture the more secure, less bulky, and the greater the biting force.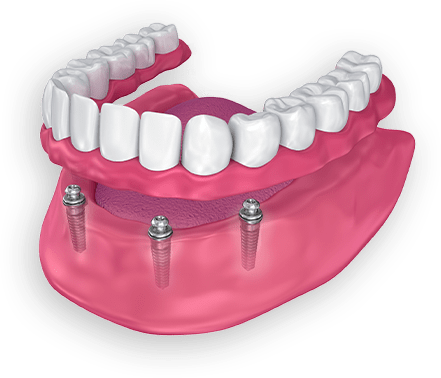 Dental implants are highly advanced treatments that have helped many individuals restore missing teeth with exceptional results. Our practice offers a comprehensive variety of dental implant options that can help you achieve your individual goals with outcomes that meet your expectations.
What Are the Benefits of Dental Implants?
Dental implants offer a range of benefits and advantages for patients who are missing a single tooth, several teeth, or all of their teeth on the upper and/or lower dental arch. Some of these potential benefits include:
Replacement of missing teeth with results that function, feel, and look like natural teeth
Improved ability to speak, bite, and chew
Significant reduction in the likelihood of movement or slippage along the gums
There are no pastes, putties, or adhesives necessary to keep the implants stable and secure
For many dental implant options, there are no food restrictions required
Who Is a Candidate for Dental Implants?
Our experienced dentist will meet with you for an initial consultation to discuss your needs and goals and determine if this procedure is right for you. Ideal candidates for dental implants must have adequate jawbone density in the area of missing teeth in order to successfully accommodate the implant or implants. In addition, candidates for this treatment should be in reasonably good general health and be free of certain medical conditions. Individuals who are currently undergoing chemotherapy and/or radiation therapy may not qualify for dental implant procedures at this time. Those who have gum disease will need to be treated for that condition before a dental implant procedure can be performed.
The field of implant dentistry has continued to advance over the years, making it possible for many patients who have not previously qualified for dental implant procedures to be eligible for them today. Still, if it is ultimately determined upon your evaluation that you are not an ideal candidate, our dentist can recommend alternative options that can help you meet your needs.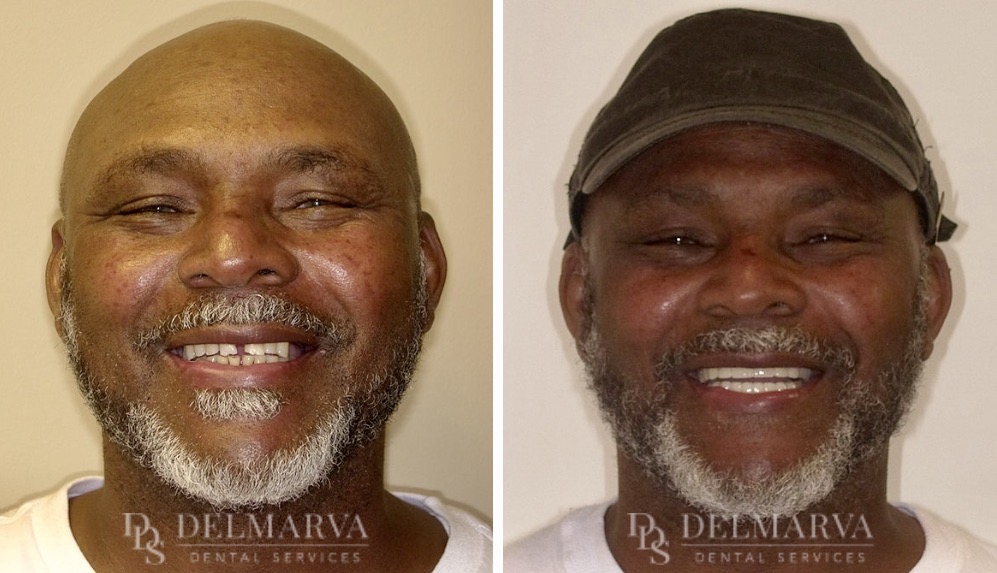 How Do Dental Implants Work?
All of the information now available about dental implants can be confusing, but there are some basic details that can help you understand how dental implants work. The success of the implant depends upon its stability or resistance to force. This is influenced by the size of the implant, the quantity and density of bone, and the amount of force placed upon it. Bigger implants are better. A lot of hard bone is best. Bone quantity and density varies among individuals. Usually, the lower jaw is better than the upper and the bone in the front of the jaw is better than the back. The fewer teeth attached to an implant and the less rigid the attachment to it the better.
Traditionally, implants are left in place for four to six months before artificial teeth are attached. However, a recent development is the attachment of the artificial teeth to the implants at the time of the placement. This is possible where bone quantity and density are good. An example of this is when two to four mini implants (described below) are placed in the anterior portion of the lower jaw. The mini implants have ball-shaped heads on them. A metal ring with a rubber gasket that fits over the ball is placed in the patient's existing denture. This is also less stressful on the implant than a more rigidly fixed tooth replacement.
Another example would be Teeth-In-An-Hour™. Computer software pre-determines the size of the implants and precisely where the implants are to be placed from a CAT scan. A template is made to guide the implant placement. The artificial teeth and the attachments are also made in advance. Everything is placed in one appointment.
Dental implants have a high degree of success. General dentists, periodontists, and oral surgeons can perform implants. Always inquire about the level of experience of your implant dentist! A more experienced doctor is often more likely to provide successful implant results that meet your expectations.
What Are the Different Types of Dental Implants?
There are three types of dental implants:
Transitional Dental Implants
Transitional implants are a recent development. They are placed with traditional implants. A denture can be secured to the transitional implants while the traditional implants are healing.
Traditional Dental Implants
These implants will serve as the permanent artificial tooth root. When the traditional implants are ready to support the denture, the transitional implants are removed.
Mini Dental Implants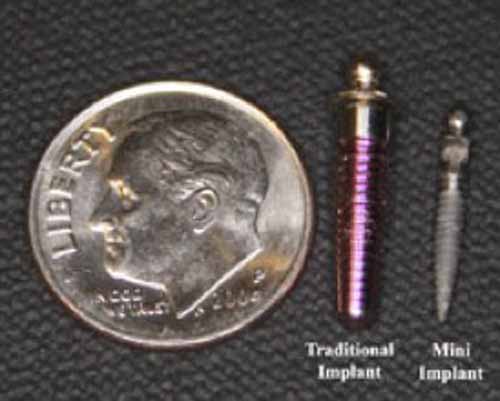 Mini implants are also a recent development. They are smaller and simpler to place than traditional implants. They can be used to secure an existing denture as soon as they are placed. The "Mini Implant Denture Stabilization" (MIDS) process involves several appointments; however, your lower
denture
can be stabilized at the first appointment. During the first visit, you will have two, three, or four mini implants placed with local anesthetic. The implants are inserted into the jawbone. Your existing lower denture is relined with soft plastic. This allows your denture to slip over the implants for better stability. You will be checked at a follow-up visit in one week or sooner if necessary. In three weeks you will return to have the soft reline removed from your denture. Metal housings with rubber gaskets are placed in the underside of your denture using a hard plastic reline material. These gaskets snap over the implants, making the denture even more secure. A few appointments may be needed for adjustments to your denture. You will then need regular cleanings of your implants, x-rays, gasket replacement, and occasional repairs. There will be a fee for these procedures. The implants and gaskets will need to be maintained by brushing with an end-tufted brush at least once daily.
Which is better: Replacing a missing tooth with a bridge or a dental implant?
While every situation is unique, it is usually better to place an implant rather than a bridge. An implant is easier to clean, can't get a cavity, does not require grinding of the adjacent teeth next to the space, and lasts longer than a bridge. Always consider all your options before replacing a missing tooth.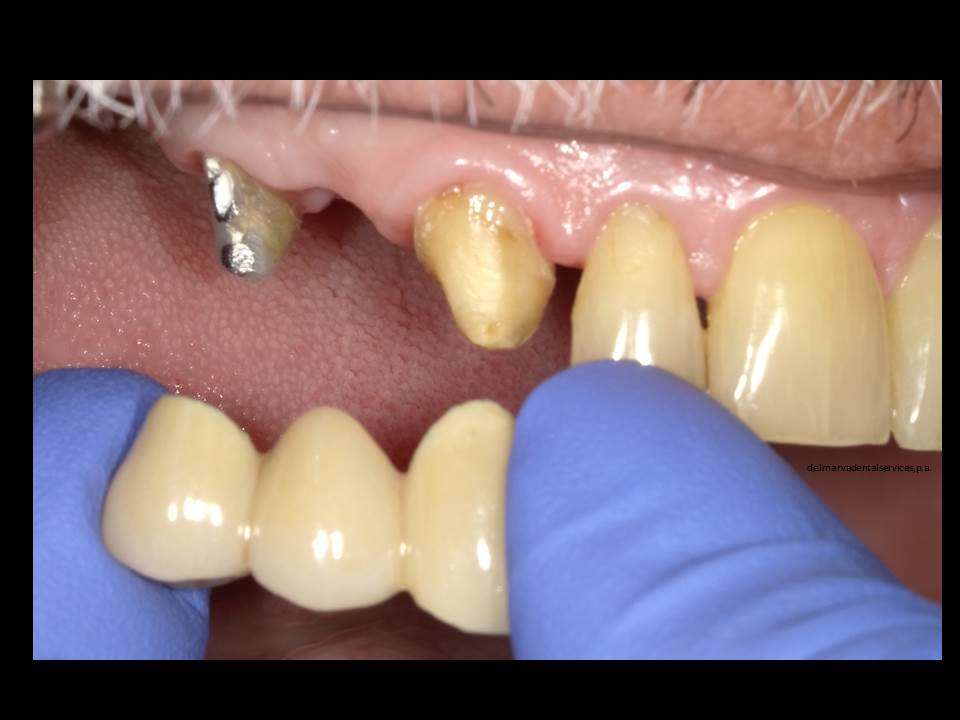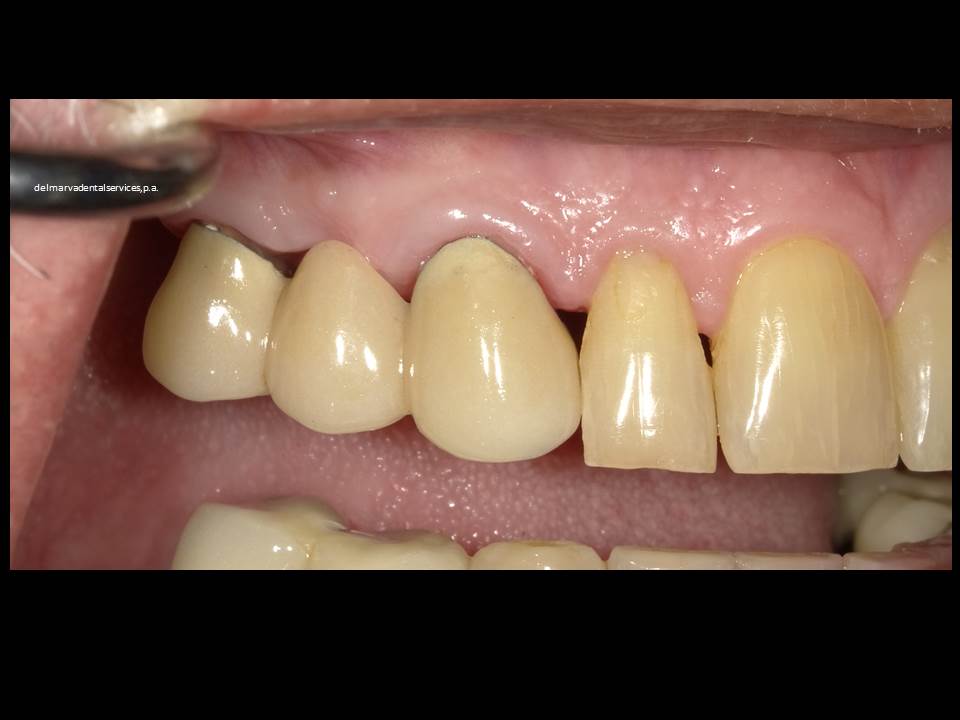 What Dental Implant Tooth Replacement Options Are Available?
A variety of attachments are available that are designed to connect the implants to artificial teeth, including: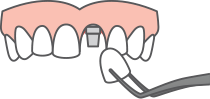 Implant Crowns
Implants are placed in the jawbone; attachments are connected to them, and an artificial single tooth or multiple teeth are connected to the attachments. The implant acts like the tooth root under the gum. The abutment is attached to the implant with a screw that connects into the implant. It is like the part of the tooth that sticks out of the gum. A crown is cemented or screwed onto the abutment similar to a crown placed on a tooth. The placement of the implant crown is the final step of the dental implant procedure. The crown is completely customized for the best possible fit and appearance, and should function like a natural tooth.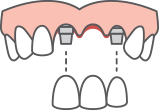 Implant Bridges
Implant bridges involve an artificial tooth (or teeth) connected between two implants, making a "bridge" that closes the gap left by missing teeth. The implants are placed in the jawbone with attachments connected to them. Then, a dental bridge consisting of an artificial single tooth or multiple teeth is connected to the attachments. The implant acts like the tooth root under the gum. The abutment is attached to the implant with a connecting screw.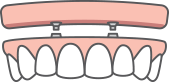 Implant-Retained Dentures
Upper and lower complete dentures or partial dentures can be retained by dental implants. Implants can be used when new dentures are made or, in many cases, placed to retain your existing dentures. A full denture would require at least two implants. Of course the more implants that are used the greater the retention. Implant-retained dentures, also referred to as "implant-supported" dentures or "implant-anchored" dentures, can be very effective ways to provide a more stable and secure basis of support for a custom denture, ultimately reducing the need for messy pastes and adhesives to keep it from moving or slipping along the gums.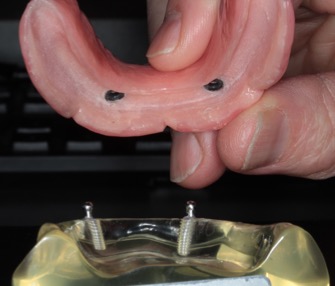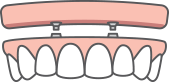 Fixed Implant Bridges
A fixed implant bridge is a missing teeth replacement option that you would not need to remove for oral care maintenance. In many cases, the procedure involves the placement of artificial zirconium, porcelain, or plastic teeth onto five or more implants for stable results that look, feel, and function similar to natural teeth. The fixed implant bridge stays in the mouth and is only taken out by the dentist periodically for cleaning.

Which is better: Replacing a missing tooth with a bridge or a dental implant?
During the first stage of your dental implant procedure, we will take a series of high-resolution images to develop a detailed map of your oral structures. This is part of what's known as Guided Implant Placement.The science of 3-Dimensional scanning, imaging, designing, and fabrication allows us to precisely place implants based on the design of the present or future teeth replacement options. Using this technique is minimally invasive, faster, and leads to a more successful end result. Guided implant placement essentially creates an extraordinarily detailed blueprint, which helps us identify the location for placement that can yield the best possible fit, function, and appearance.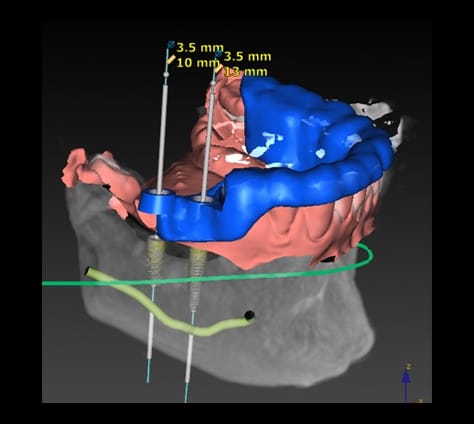 The next stage involves the placement of the implants themselves. The titanium posts will be delicately inserted into the gum and anchored to the jawbone. At this point, the "osseointegration" process will begin. Osseointegration is the stage in which the implant fuses to the bone, ultimately mimicking a natural tooth root. This usually takes several months. In many cases, temporary crowns or prostheses can be attached to the implants during the osseointegration process. Once it is complete, the final crowns or denture prosthesis can be affixed. After one last polish, the results should look and feel like natural teeth, enhancing the appearance of your smile and resolving many of the problems commonly associated with missing teeth.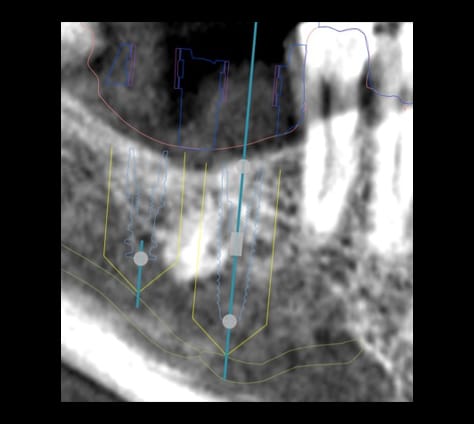 How Do I Care for My Dental Implants?
In many cases, dental implant home care maintenance requires little more than brushing and flossing as you would normally. Patients must regularly clean around all implants. They also should be professionally cleaned every three to four months. Attachments will need regular maintenance such as cleaning, screw replacement, screw tightening, and part replacement. It is important to note that, in addition to your initial treatment selections, there is a fee for maintenance procedures when you have these performed. A member of our team will be happy to answer any questions you may have so you will know what to expect.
How Long Do Dental Implants Last?
With the proper at-home oral healthcare regimen and regular dental office visits, the results of dental implants can last decades. In fact, many patients have experienced lifetime results with this advanced treatment option.
Are Dental Implants Safe?
With advanced technology combined with the skills and experience of qualified dental professionals, the risks associated with dental implants can be minimized. Dental implant procedures have proven to be reliable missing teeth replacement options for many years; however, it is important to understand that this treatment involves a surgical component, and surgical treatments have some degree of associated risk. Fortunately, our use of state-of-the-art imaging technology, 3-D Guided Implant Placement, and precise planning techniques coupled with the experience of our dental team can help reduce the chance of implant failure and other potential complications. In addition, patient adherence to post-operative guidelines and instructions can also minimize certain risks associated with dental implant procedures and significantly increase the likelihood of successful treatment and long-lasting results.
Do Dental Implants Hurt?
For many patients, the local anesthetic applied to the treatment area during the dental implant procedure is all that's necessary to minimize discomfort. We also offer a range of effective sedation dentistry options for individuals who would like additional assurance that they will experience the least amount of discomfort possible.
Are There Alternatives to Dental Implants?
Some individuals may not be candidates for full dental implant procedures, and some may simply wish to consider other types of missing teeth replacement. Fortunately, our practice offers a comprehensive array of alternatives that can meet a range of needs. One of the most tried-and-true options to effectively replace missing teeth is the standard dental bridge. This can be ideal for patients who have one or more teeth missing between two natural teeth. We also offer a variety of denture options at our practice. Customized dentures can help patients who are missing many teeth or all of their teeth, and advanced options such as root retained dentures and others available from our office may be an ideal treatment for the right patient. It's also important to note that there are some dental implant options, such as implant bridges and implant-supported dentures, that may still be viable alternatives. Our dentist will be happy to talk with you about the many options that can help you meet your unique needs and goals.
How Do I Choose the Best Implant Dentist?
Choosing the best implant dentist involves making sure the dentist you are considering has the experience and training necessary to provide optimal results. The utilization of advanced technology and demonstrated expertise in virtually all aspects of the dental implant treatment process are also important factors. When vetting a potential implant dentist, you can ask for previous patient testimonials and before-and-after photos. By reviewing past experiences from other patients, you can see if your expectations and goals line up with the results that a potential implant dentist can produce. Additionally, developing an ideal patient-doctor relationship is often key to ensure your needs are met effectively. In order for the implant dentist to be able to address your concerns, you will need to openly communicate with them and detail your overall expectations. Having a solid relationship with your implant dentist can promote a more successful and comfortable experience, as well as enhance overall patient satisfaction.
Our practice provides comprehensive dental implant services that cover all steps of the treatment process, from the initial planning stages to implant placement and development of the custom crown. We invite you to reach out to Delmarva Dental Services with any questions you may have about our experience with dental implant procedures and how we can help you achieve your goals and expectations.
How Much Do Dental Implants Cost?
The total cost of dental implant procedures is greatly dependent on the specifics of the patient's customized treatment plan; therefore, the price will not be the same for everyone. In general, the cost of a dental implant procedure to replace a single missing tooth can fall in the $3,000 to $4,500 range. A variety of factors that go into the price of your treatment will be taken into account, including the number of dental implants that are being placed, the type of dental implant procedure you are receiving, whether additional procedures are necessary prior to implant placement (such as periodontal care or bone grafting), the overall complexity of the procedure, whether sedation dentistry techniques are utilized, fees for materials, and other associated costs. Once your treatment plan is created during the initial consultation, one of our patient care coordinators will calculate a cost estimate of your dental implant procedure that includes all expenses. We can talk with you about the many payment methods we accept here at Delmarva Dental Services. If you are interested in financing your procedure, our office works with a number of reputable dental care financing companies, including CareCredit®, that offer a variety of monthly payment plans for qualified applicants who wish to pay for their treatment over time.
Additional Frequently Asked Questions About Dental Implants
Are dental implants covered by insurance?
Some dental insurance companies may offer at least partial coverage for dental implant procedures; however, others may classify this as an elective treatment, and therefore would not provide benefits. A member of our team can assist you with determining whether your dental insurance policy covers dental implants. If not, our practice accepts numerous convenient payment methods, including financing arrangements through several popular lending agencies.
How do dental implants feel?
Dental implants should feel identical to natural teeth. Indeed, the ability of dental implants to feel, function, and look like original teeth is one of the major benefits of these exceptional treatments.
How long does it take to get dental implants?
The length of time that it takes for patients to fully complete the dental implant treatment process is dependent on a number of different factors. These include the type of implant procedure that is being performed (i.e. full dental implants, implant-supported dentures, mini-dental implants, or other options). In some cases, patients may need bone grafting or other preparatory procedures to get the area ready for implant placement, which will have an effect on the overall length of the treatment process. Once our dentist has evaluated your oral structures and talks with you about your concerns, he should have a better idea as to the approximate time it will take from the start of the process to the final stage of treatment.
Does smoking affect dental implants?
Smoking can be particularly detrimental to dental implants and may even lead to implant failure. We typically recommend that patients stop smoking a minimum of one month before the dental implants are placed, and that they do not restart the habit following the procedure. This time period is critical because smoking can heighten the risk of infection, slow down the healing process, and may even result in additional bone loss around the implant. All of these factors can ultimately cause the implant to fail, in addition to increasing the risk of other potential complications.
How successful are dental implants?
Dental implants typically enjoy an extraordinarily high rate of success when placed by dentists who are skilled and experienced with these procedures, and when patients take the precautions necessary to ensure proper healing and long-term maintenance. Avoiding tobacco products, attending the recommended number of dental check-ups and cleanings, and taking good care of your oral health can increase the likelihood that dental implants last for many years to come.
How many dental implants will I need?
The answer to this question will depend on a variety of factors that are unique to your personal needs and goals. These factors include the number of teeth that are missing, the level of existing jawbone density in the treatment area, and whether individual dental implants, an implant-supported denture, or another implant option is the more ideal solution. Our dentist will explore all of the possibilities with you during the initial consultation and answer any questions you may have.
Are there certain foods I should avoid?
After the healing process from dental implant placement is complete, there are virtually no foods that need to be avoided. This is yet another reason why dental implants are often a more preferable option for missing teeth replacement. A soft-food diet will be necessary for a few days immediately following the dental implant procedure just to ensure there are no disruptions to the healing process; however, once the areas have healed, most patients are free to enjoy any of the foods they like. One note of caution: just as you would with your natural teeth, it is best to be careful when biting down on hard foods to prevent excessive wear or damage to the custom dental crowns.
When is it too late to get dental implants?
With the advances that have been made in the field of implant dentistry and restorative dentistry over the years, it is virtually never too late to get dental implants for most individuals. Bone grafting has made it possible to produce a strong enough foundation for dental implants in patients who have had jawbone deterioration in areas of missing teeth. While some patients may not be candidates for dental implants, the fact is that more people than ever are now eligible for these procedures.
Do dental implants look natural?
Dental implants, typically capped with dental crowns, are designed and created to be as natural looking as possible. The dental implant will be hidden within your gums as it fuses to your jawbone. The titanium post that makes up the implant is utilized to mimic the function and structure of your original tooth root. Furthermore, the customized crown that sits on top of the implant can be shaped and color corrected to match your surrounding teeth to further improve its natural appearance. Once placed, dental implants can look and function in the same way as your natural teeth.
Will I need a bone graft for dental implants?
Not everyone who receives dental implants will need to get a bone graft prior to their procedure. However, some patients who have less sufficient jawbone density will likely need to undergo a bone grafting procedure in order to prepare for the dental implants. Based on your specific needs, our team will be able to determine if you need a bone graft before receiving dental implants. There will be a waiting period between your bone grafting procedure and your dental implant surgery as your mouth will need time to heal before moving on.
What can cause dental implant failure?
It can be very rare and difficult for a dental implant to fail. However, dental implant failure does happen from time to time and patients should be aware of the risks. The reasons for implant failure can include potential infection following surgery or an improper fusing between the implant and the bone during recovery. Other factors that can contribute to implant failure may include overall poor oral hygiene, lack of jawbone density, gum disease, and smoking. Our highly trained and experienced implant dentists take great care to minimize and reduce the overall risks of implant failure and are well-equipped to address any concerns in the unlikely event that a failure occurs.
Delmarva Dental is the most pleasant dental experience I've every had. The setting is calming and the staff is not only professional and competent, but friendly as well.

Cathleen Wist

August 05, 2022

12345
More Reviews
To learn more about how dental implants can help you meet your needs, or to schedule a consultation, please contact us today.