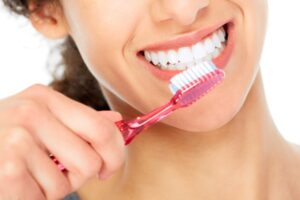 With millions of people across America either currently under shelter-in-place orders or justifiably concerned about leaving their homes during the Coronavirus/COVID-19 pandemic, it is more important than ever to be taking steps to maintain good oral health. In mid-March, the American Dental Association recommended that virtually all dentists nationwide temporarily close their doors to elective, non-emergent dental procedures. Since our dentists in Salisbury are seeing patients for dental emergencies only during this time, we would like to provide you with a brief guideline on how you can keep your oral health in good shape until Delmarva Dental Services is able to re-open its doors to patients seeking routine dental care and other elective procedures.
A recent article in Healthline offered tips on some of the best things you can do for at-home dental care and oral health maintenance. Here are some highlights that can serve as a useful guide:
First and foremost, brush your teeth at least twice per day and floss once per day. This is the standard recommendation, and it is no less important during these challenging times. What makes this recommendation even more crucial is the fact that accumulation of plaque and bacteria must be controlled as much as possible to prevent decay and painful cavities from developing, not to mention gum disease. Basic oral care can go a long way toward maintaining good oral health between professional dental cleanings.
If possible, rinse your mouth twice daily with mouthwash that does not contain alcohol. This can further help with plaque control. It is advisable during this time that individuals use mouthwashes and toothpastes that don't have alcohol or anti-bacterial agents in their composition since these ingredients may potentially have an effect on the immune system.
Don't forget to clean your toothbrush regularly, and try to keep it covered when not in use. Toothbrushes can be affected by viruses—soaking them in a combination of hydrogen peroxide and mouthwash can help reduce the risk.
Remember to drink lots of water and to eat healthy foods as much as possible. Items high in sugar and starch can degrade the tooth enamel. Also, try to avoid smoking (which is bad for the lungs and the gums), excessive alcohol consumption, and hard foods or harmful dental habits that may fracture the teeth or damage a restoration such as a crown or filling.
Teeth and gum health are incredibly important, particularly during a period in our history where we need our immune systems working hard to fight off a virus. By maintaining optimal oral health, you can make it possible for your immune responses to focus less on problems with the teeth and gums and more on the battle against other threats.
Please see our page on dental emergencies for information on what is typically considered an urgent care situation. That information does not list every conceivable type of dental emergency, so if you feel that you or a loved one is having any kind of dental emergency, please don't hesitate to call us at (410) 742-3000.
Please take care of yourselves. By working together, we can all help #flattenthecurve!