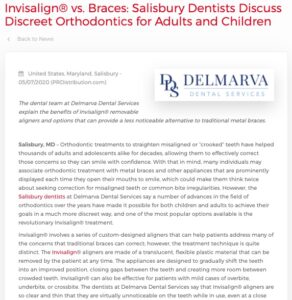 The dental team at Delmarva Dental Services explain the benefits of Invisalign® removable aligners and options that can provide a less noticeable alternative to traditional metal braces.
Salisbury, MD – Orthodontic treatments to straighten misaligned or "crooked" teeth have helped thousands of adults and adolescents alike for decades, allowing them to effectively correct those concerns so they can smile with confidence. With that in mind, many individuals may associate orthodontic treatment with metal braces and other appliances that are prominently displayed each time they open their mouths to smile, which could make them think twice about seeking correction for misaligned teeth or common bite irregularities. However, the Salisbury dentists at Delmarva Dental Services say a number of advances in the field of orthodontics over the years have made it possible for both children and adults to achieve their goals in a much more discreet way, and one of the most popular options available is the revolutionary Invisalign® treatment.
Invisalign® involves a series of custom-designed aligners that can help patients address many of the concerns that traditional braces can correct; however, the treatment technique is quite distinct. The Invisalign® aligners are made of a translucent, flexible plastic material that can be removed by the patient at any time. The appliances are designed to gradually shift the teeth into an improved position, closing gaps between the teeth and creating more room between crowded teeth. Invisalign® can also be effective for patients with mild cases of overbite, underbite, or crossbite. The dentists at Delmarva Dental Services say that Invisalign® aligners are so clear and thin that they are virtually unnoticeable on the teeth while in use, even at a close distance, allowing both adults and teenagers to achieve their orthodontic goals with less concern about how their smile will appear when attending school, work, or social events. While the doctors say Invisalign® can ultimately provide patients with a more discreet and comfortable treatment, they note that it is typically more ideal for individuals with mild to moderate orthodontic concerns rather than severe irregularities. They also say that compliance is key to optimal results, and patients should only remove the aligners while eating and drinking.
While Invisalign® is a common request at Delmarva Dental Services, the dentists say it's not the only alternative to braces for some patients. They note that porcelain veneers can also be a way to correct misalignment concerns such as gaps and spaces between the teeth. This option usually requires only a few visits to the office since it does not involve ongoing orthodontic treatment. Porcelain veneers are customized cosmetic restorations that fit over the front and sides of the affected teeth. They are made to look and function just like natural teeth, and serve to "mask" mild to moderate signs of misalignment. Porcelain veneers can last many years into the future with the proper care, and can ultimately produce a straighter and more even appearance among the teeth.
With the variety of options for addressing orthodontic conditions available today, the dentists at Delmarva Dental Services say people across the age spectrum can meet their needs without worrying too much about how they may look during the treatment process. Overall, the dentists say the most important thing for individuals who are considering orthodontic treatment is to visit a qualified professional who can thoroughly evaluate their needs and recommend the most ideal treatment options.
About Delmarva Dental Services
Delmarva Dental Services was founded by Dr. Robert Esham and has been serving Salisbury, MD and surrounding communities since 1981. Dr. Esham's team of dentists, including Dr. Joseph P. Harmon, Dr. Leigh Auchey, and Dr. Irene Sakellis, along with the many dental hygienists, assistants, and administrative staff at the practice offer an expansive selection of treatments for a range of dental care needs. Options include preventive and family dentistry procedures, restorative dental care, and cosmetic dentistry treatments to help patients of all ages improve their oral health and renew the appearance of their smile. In addition, Delmarva Dental Services offers treatment for TMJ Disorder, sleep apnea and snoring, and options such as dental implants for the replacement of missing teeth.
For more information about Delmarva Dental Services, visit delmarvadentalservices.com or
facebook.com/DelmarvaDentalServices.
Contact:
Delmarva Dental Services
1310 Belmont Ave, Suite 301
Salisbury, Maryland 21804
(410) 742-3000
Rosemont Media
(858) 200-0044
www.rosemontmedia.com