The team at Delmarva Dental Services in Salisbury discuss the best things to look for when considering a new dentist for family dental care & other treatments.
Salisbury, MD – Finding a new dentist that can serve the needs of both t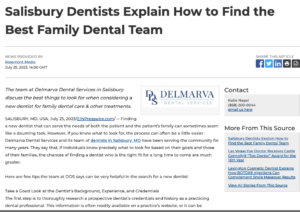 he patient and the patient's family can sometimes seem like a daunting task. However, if you know what to look for, the process can often be a little easier. Delmarva Dental Services and its team of dentists in Salisbury, MD have been serving the community for many years. They say that, if individuals know precisely what to look for based on their goals and those of their families, the chances of finding a dentist who is the right fit for a long time to come are much greater.
Here are few tips the team at DDS says can be very helpful in the search for a new dentist:
Take a Good Look at the Dentist's Background, Experience, and Credentials
The first step is to thoroughly research a prospective dentist's credentials and history as a practicing dental professional. This information is often readily available on a practice's website, or it can be requested from the office. They note that individuals should review a doctor's educational background, list of memberships/affiliations, and overall experience to get an idea of his or her qualifications. The DDS team says a dentist's commitment to continuing dental education is also important in that it signifies their willingness to consistently learn about the latest advancements in treatments and techniques.
Review the Dental Care Services Available at the Practice
When considering dental care practices, it is important to have an understanding of the services available to determine whether the office provides the desired treatments. The dentists at DDS explain that many individuals prefer offices that offer a comprehensive list of options that include restorative dentistry, cosmetic dentistry, and general/preventive dental care. From porcelain veneers to Invisalign® orthodontics, standard family dental care options, and other procedures, a thorough selection can often minimize the need for a dentist to refer patients to other practices for more specialized treatment, and maximizes the ability of patients and their families to receive the care they need in a single convenient location.
Research Patient Reviews and Before-and-After Smile Galleries
In today's day and age, it's often very easy to find reviews of dentists and their practices online. The doctors at DDS say prospective patients can find out about other individuals' overall experiences at a specific practice by researching some of those reviews and evaluating feedback. Additionally, people who are looking for a new dentist can often find before-and-after photos on a dentist's website. These "Smile Galleries" offer a literal snapshot of the results for which the dental team is capable. If before-and-after photos do not appear on the website, patients can inquire about any that might be available to review at the office.
Meet With the Dentist
Finally, once the selection of prospective dentists has been narrowed down, the DDS team says individuals can schedule an in-person consultation. This initial meeting can help patients evaluate their rapport with the dentist and the practice's overall approach to care. Plus, if a patient or a member of their family are particularly prone to dental anxiety, they note that this is a good time to let the dentist know about that and to inquire about any sedation dentistry techniques they may provide.
Overall, the doctors at DDS say that patients should always feel comfortable asking questions and should be able to establish trust and confidence in the dentist's abilities. The partnership between the dentist and the patient should be a true collaboration—one that meets the patient's needs and goals and ultimately gives them new reasons to smile.
About Delmarva Dental Services
Founded in 1981 by Dr. Robert Esham, Delmarva Dental Services is a comprehensive dental practice in Salisbury, MD that offers a full array of cosmetic, restorative, and family dentistry options for patients of all ages. Dr. Joseph P. Harmon, Dr. Leigh Auchey, Dr. Irene Sakellis, and Dr. Jessica Harrison lead a multi-disciplinary team of dental professionals responsible for helping patients improve their dental health and function while enhancing the appearance of their smiles. In addition to the many family dental care options available at Delmarva Dental Services, the practice offers advanced treatments such as dental implant restorations, sleep apnea and TMJ Disorder treatment, teeth whitening, and many other popular procedures.
For more information about Delmarva Dental Services, visit delmarvadentalservices.com or
facebook.com/DelmarvaDentalServices.
Contact:
Delmarva Dental Services
1310 Belmont Ave, Suite 301
Salisbury, Maryland 21804
(410) 742-3000
Rosemont Media
(858) 200-0044
www.rosemontmedia.com