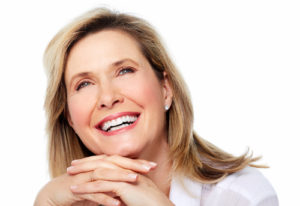 The dental implant is one of the single-most important, and revolutionary, restorative dentistry option in the history of dental care. Designed to replace missing teeth with results that function like natural teeth and beautifully enhance smile aesthetics, dental implants can often serve as an ideal alternative to traditional dentures.
With even greater advances that have been made in implant dentistry over the years, such as 3D imaging, virtual implant design, and guided implant placement, more individuals qualify for dental implants than ever before. Good candidates for dental implants include patients who:
Are missing a single tooth, several teeth, or full sets of teeth
Are looking for long-term tooth restoration that can precisely mimic the feel, function, and appearance of natural teeth
High cavity rates since implants don't get cavities
Dry mouth with denture irritation
During your initial evaluation, one of our experienced dentists will examine your oral structures and determine whether a dental implant procedure is right for your needs and goals. If you are not an ideal candidate for traditional dental implants, Delmarva Dental Services offers a comprehensive range of alternative options, including mini implants, conventional dentures, implant-supported dentures (retained dentures), and others.
If you have questions about dental implants or other missing teeth replacement options, or if you would like to schedule a consultation, please contact our practice today!